25 Oct 2021
Save the date - KTN collaborating to tackle climate change through location intelligence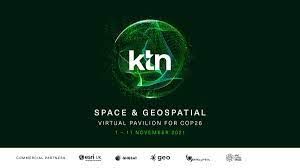 KTN is working alongside 30+ partners in constructive, collaborative partnerships to bring you the Space and Geospatial Virtual Pavilion for COP26
KTN is working alongside 30+ partners in constructive, collaborative partnerships to bring you the Space and Geospatial Virtual Pavilion for COP26(the 26th UN conference of the Parties for Climate Change), which seeks to showcase how we can realise the full potential of location intelligence in achieving carbon emission targets.
Taking place between 1-11 of November 2021, the Virtual Pavilion aims to support organisations and businesses operating in the Space and Geospatial ecosystem to engage with a cross-sector audience, to explore the value of collaboration as the key to build innovation with impact.
It has always been known that tackling climate change would require a united front, yet for too long lack of trust has meant that intellectual property and skills have been siloed, hindering the opportunity for invaluable data sharing for the benefit of all. No one organisation can stop global warming alone, and mutual exchange of information is a potent tool to slow its advance.
The pavilion brings together over 30 organisations including UK Space Agency, Space4Climate, ESA and the Satellite Applications Catapult to work towards a more united future in the struggle against climate change.
The pavilion will cover four main themes in its sessions:
Resilience – the future is increasingly uncertain thanks to human impacts on the climate, location intelligence is key to building resilient infrastructure and planning for future threats
Adaptation – better information on how climate change might impact us is crucial to protecting people and places
Finance – geospatial data is crucial to understanding the impacts of climate change on risk and our economy, as well as enabling effective investment in the areas that offer the best sustainability returns in the transition to a cleaner, greener future
Collaboration – at COP26 every voice must be heard if we are to work constructively in tackling the problems we face. Geospatial data provides a common thread between datasets, enabling effective collaboration for collective betterment.
https://vimeo.com/613453642